خ​​​ل​​​ق و خ​​​و​​​ی ه​​​م​​​ا​​​ه​​​ن​​​گ
ejmal moodegi
new single – 2o23
Official release in January 2o23
label " MMLI " [ ref.: unracourcid'atome ]
---
Drowned Mermaids
album – 2o2o
Official release in February 2020
netlabel " Nostalgie de la boue" [ ref.: ndlb#142 ]
You also can read two nice chronicles about my album.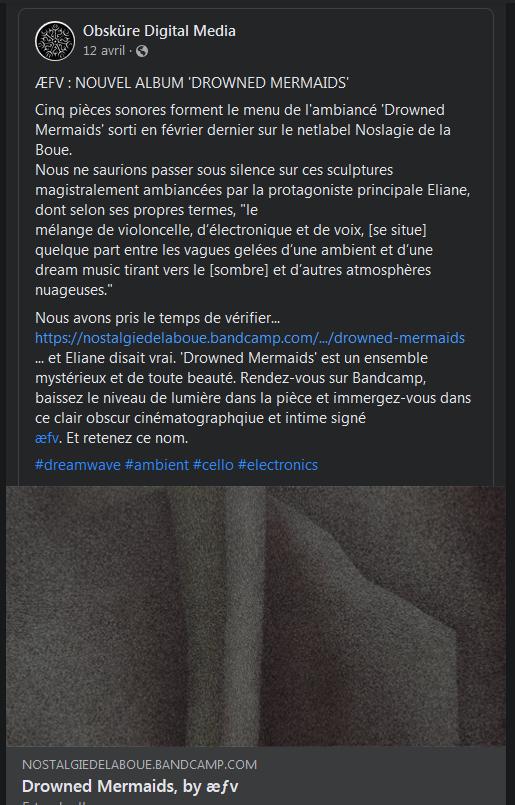 ---
WestWorld S.3 E.5 Contest
During the first lockdown in 2o2o, Spitfire Audio and HBO offer an exciting contest and chanllenge to score a chase sequence\ scene from Westworld. This is my proposal.
Whit the courtesy of HBO & Spitfire Audio.
© Video sequence by HBO
© Music Score by éliane blaise
---
terminal B. each (lyrics)
In 2o18 I was happy to collaborate with Douce / Froide for her album on Douce/Froide, to wrote lyrics for two songs for her: "terminal B.each" and "Impénétrabilité fantomatique".
Douce/Froide is a french musician, Paris based, under electronic, french pop, synthpop and synthwave music.
---
Manquante

Cinquième et parallèle feelmix by éliane blaise / æfv – 2o16
At the end of the year 2o15, Evaporation Sonore aka Fille du calvaire, sent me some Sound Material from Hanoï, Viet Nam, to create-make a kind remix of her soundcards from there, for her album Évaporation.
Telle la rencontre de l'asphalte avec la pluie, une difficulté à faire se rejoindre le
naturalisme et le post-modernisme dans un même espace coercitif émerge à
l'émargement de cette zone telle une sorte de catastrophe !
Mais… comment lui parviendrait les ondes de ce monde, d'un monde, peut-être
autre, si alors, sans souvenirs, enfermée dans une probable salle
(…), sans plus d'énergie à pourvoir suppléer aux machines l'encerclant, si
tout dans ce monde eut cessé de pulser ? Un récepteur (…) diffuse en continu des ondes captées, éparses, essaimées (…) de ce qui fut. Seuls des courants magnétiques ondoient dans de longues plaines évidées, de tout ! Le vent magnétique aurait tout emporté. Ces ondes seraient alors, dans ces flux ayant enceint l'ensemble des "choses,, et "présences" […], telles les traces, survivances d'une « tradition orale » des vestiges de la pensée et présence humaine.

éliane blaise – Creative commons – 2016
---
intimae in micro circum polaris (edit. µ reducere) ~ Frayée
A score dedicated to a french compilation Rien Ni Personne, in 2o15.
Nostalgie de la Boue [ndlb#80], France/ Ivory Coast
---
Triptyque miniature d'une botanique pour vents, eaux et une nuit
A fragile Field Recording track dedicated and created for the World Listening Day in 2o14 to
SONIC TERRAIN's compilation f r a g i l i t y.
Sonic Terrain [STR 012], Colombia.